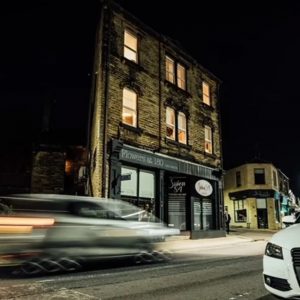 About The Workshop & Loft
In the Autumn of 2014 we opened a tiny flower shop on the ground floor of a beautiful Victorian building. The shop had been a florists for over 40 years. It was a little tired so we stocked it full of plants, fresh flowers and beautiful finds for the home and gave it a new heart beat. 
We quickly grew out of the space and took on a small store room on the 1st floor above the shop. Little by little we took on the rest of the floor, stripped out all the sad 80s decor, revealed some of the Victorian features and breathed new life back into the rooms. We used The Workshop at peak times as our work space and throughout the year we would dress the mantel with seasonal foliage and blooms and host candle lit Christmas wreath making Workshops (We still do). 
We hosted launch parties and corporate parties and smiled as we watched people relax into the space, enjoy the atmosphere and we struggled to get them to leave. When one of our guests said she'd like to get married in The Workshop and knowing there was a demand for intimate weddings, we'd just created flowers for a wedding in the tiniest venue ever, we decided to take on the top floor at number 1 King Street and give the wedding and events biz a go. 
We no longer have the flower shop but now you can get married, drink, dine, dance and have all your flowery dreams come true under 1 historic roof. We may not look much from the outside but its what's inside that counts and we've created a cozy atmosphere to indulge in making time for friends and family. 
Stripped-back yet full of character, it is the perfect place for couples looking for an "un-weddingy" wedding venue. 
Really, you won't want to leave.
The Workshop & The Green Room
High ceilings, stripped floor boards, whitewashed walls and warm natural light through the day, The Workshop is a beautiful honest room. Mismatched wooden chairs add to the rustic vibe while flashes of vintage velvet add a touch of glamour. 
Gather up to 50 of your friends and family ones and say your vows in front of the mantel which will be dramatically dressed in seasonal flowers and foliage.
 The atmosphere is incredible when this intimate space is full of love. For parties and evening reception we create small clusters of hard and soft seating, providing the perfect environment to sit with a drink, chat and listen to the music. When the sun goes down, we light candles and the Workshop takes on an enchanting ambience. 
The Green Room is elegant and whimsical and has the feel of a gents club. It's perfect for post-ceremony drinks and offers a quiet place to sit and chat away from the hubbub.
The Loft offers beautiful views over Mirfield. It has exposed brick walls, painted floorboards and a rustic bar that is stocked with carefully curated wines, gins and cocktails.
Natural light floods in through the day and in the evening we turn on the lamps, light the candles to create a cocooning, relaxed environment.
 50 people can enjoy seated dining, and we can accommodate 120 people for a casual dining reception and evening party.
Frequently Asked Questions
Can we provide our own alcohol?

Can the venue host the ceremony and reception?

How accessible is the venue?

Can we have our own playlist?

What is the capacity for the ceremony and wedding breakfast?

Will there be someone there to manage things on the day?

Is there any parking at the venue
First time we'd ever been was Friday and what a beautiful place it is, and we just couldn't get over how nicely decorated it was. A real Gem in Mirfield that we hadn't a clue about...Shame you are only open once a month!
We had our Wedding on the 30th of April and it was more than perfect!
Cate and Hannah are amazing at what they do and the attention to detail was spot on. We knew the second we walked up those stairs that it was the place for us and we were so right! Planning the day was so easy and the day itself ran so smoothly I just wish I could do it all again! Thank you both and to all the staff behind the scenes for giving us the most perfect day!
Cate, we've known you a long time and you deserve your success
It was only a matter of time before people started to pay attention to this great venue. If you are thinking of booking an event just go for it!!!
Lovely to chat with you Cate. Fantastic atmosphere. Fantastic place
What an amazing night!!! Thanks to all for being so welcoming to us (The Bangin Tuesdays) if anyone has any videos then please do send them over. Such a fab night.
What a great night Cate & your venue is stunning.
Wonderful day, very much enjoyed by all-thanks so much
Fabulous night, fabulous food
It was the perfect night thank you
Thank you very much for allowing me to use your beautiful venue. So many people commented on how lovely it is. I had a blast...not too bad turning 60! xx
Absolutely outstanding! And thank you for having us
We had the most magical day. Thank you for helping us to make it perfect
Thanks to The Workshop and Loft for a fantastic welcome on Friday!! We didn't want the evening to end. Look forward to the return have a great week
It was such a lovely workshop! Thank you so much, it was really fantastic
Awww they came to night and day, they looked fab